Atlanta REIA Main Meeting
& Vendor Trade Show
Creating Quick Cash Now & Long Term Cash Flow by Buying Notes Without Using Your Own Cash or Credit with Donna Bauer
Atlanta REIA Members Can Attend at No Charge. This month,
Guests Can RSVP Online Now for $20 or Pay $25 at the Door.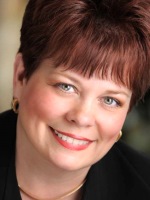 We are excited to announce that Donna Bauer will be our special guest trainer this month at Atlanta REIA on Monday, May 1st at 5:00 PM at the Crowne Plaza Ravinia located at 4355 Ashford Dunwoody Rd, Atlanta, GA. Whether you are a conservative investor or a risk taker, buying notes puts you in control of your real estate transactions and your personal wealth planning.
Donna Bauer, nationally known as The Original NoteBuyer®, is one of the nation's most recognized subject matter experts on Discounted Notes, Seller Financing, and Distressed Mortgages. For over two decades, Donna's exclusive strategies have produced stunning results regardless of economic conditions.
As thousands of successful investors have discovered, Donna's approach to real estate investing is brilliantly suited to today's unique market and the shift toward alternative forms of financing
During her 90 minute presentation, Donna will teach you how to…
Create quick cash and long term cash flow with 3 Basic Note Buying Strategies—WITHOUT your own cash or credit
Evaluate 4 critical areas before buying a note
Create an 'ultra safe' deal, even in a down market
Buy 'part of a note' for super high returns and safety
Create SMART seller financing for maximum cash out later
Buy and sell properties WITHOUT ever needing a bank
Plus, you'll learn how to:
Use defaulted bank loans as a backdoor to acquiring properties well below market value
Use defaulted bank loans to create super high yields by modifying the mortgage and allowing the homeowner to stay in the house — a real win/win!
Donna will be quick to tell you that in her life time, she has never seen so many amazing opportunities with notes. With deals galore in the market place and bank financing hard to come by, seller financed notes have once again become the rage. This creates an awesome opportunity in the secondary market to make huge profits without all of the hassles of the proverbial "tenants, trash and toilets," not to mention without using your own cash or credit. There's no doubt, buying and selling other people's seller-financed notes is the quickest, easiest, safest way to CASH IN on today's fantastic real estate market!
Donna began her note buying career over 25 years ago in search of a vehicle that would offer her financial security without sacrificing cherished time with her four children. Working from her dining room table, as she began closing discounted note deals across the country, she realized that she had found a gold mine! Now, with well over a thousand deals under her belt, her peers consider her to be the foremost subject matter expert on note buying, while her students acclaim her as being a gifted, inspiring mentor.
If you are serious about building wealth in today's real estate market, you don't want to miss this presentation! RSVP Now!
As always, Atlanta REIA Members can attend the event at no charge and Non-Members can Register Online for $20 or pay $25.00 at the door. Be sure to bring your business cards and flyers and join us for an evening of real estate deals, vendors, networking, education and fun! See you there! RSVP Now!


Atlanta REIA Members Please RSVP on Meetup.com